On Tuesday 17 September, exactly 75 years after the start of Operation Market Garden, the exhibition 'Frontlijnen / Frontlines' was opened.
Dinsdag 17 september, precies 75 jaar na de start van Operatie Market Garden, is de tentoonstelling 'Frontlijnen' geopend. 
It was an inspiring event opened by mayor Hubert Bruls of Nijmegen, in the presence of aldermen Renske Helmer-Englebert and Monique Esselbrugge, with an inspiring opening speech. Very special was an exclusive spoken column by writer and journalist Peter Brusse. As a child, Brusse experienced the front-city era in Nijmegen. He has vivid memories of this and told about it in a compelling way. The opening started with a beautiful song by Peter Hendriks.
Het was een inspirerende bijeenkomst die begon met een prachtig lied door Peter Hendriks, waarna burgemeester Hubert Bruls van Nijmegen, in het bijzijn van de wethouders  Renske Helmer-Englebert en Monique Esselbrugge, een openingsspeech hield. Heel bijzonder was dat schrijver en journalist Peter Brusse was gekomen om een exclusieve gesproken column uit te spreken. Als kind maakte Brusse de frontstad-tijd in Nijmegen mee. Hij heeft hier levendige herinneringen aan en vertelde er op meeslepende wijze over.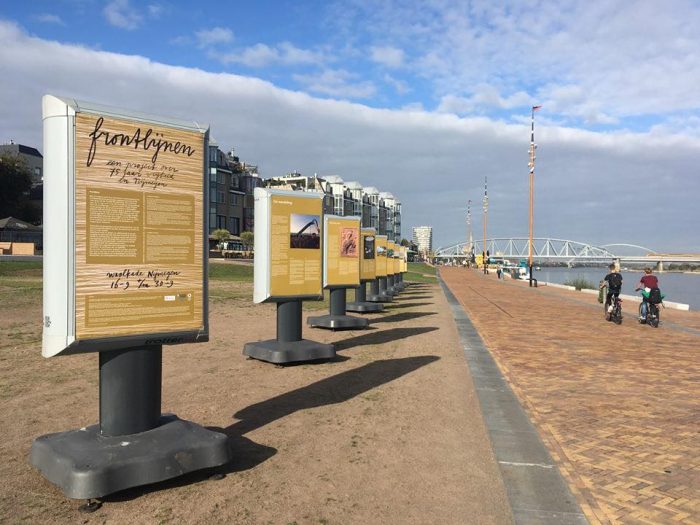 Frontlijnen / Frontlines is a project of Ilona Verhoeven in cooperation with the Besiendershuis in Nijmegen. The exhibition on the Waalkade in Nijmegen is to be seen from 16 to 30 September 2019, free entrance.
Frontlijnen is een project van Ilona Verhoeven in samenwerking met het Besiendershuis in Nijmegen, de tentoonstelling op de Nijmeegse Waalkade is te zien van 16 tot en met 30 september 2019, vrij entree.