In 2020/2021 Ilona Verhoeven is writer-in-residence at the Suffering Matters festival. Alongside the exhibition in the Stevenskerk in Nijmegen with work by Rob Sweeren, Keiko Sato and Martijn Schinkel, a magazine will be published. Ilona Verhoeven contributes some reflections on the subject of the festival. 
In 2020/2021 is Ilona Verhoeven writer-in-residence bij het Suffering Matters Festival. Er verschijnt een magazine met een aantal bespiegelingen van haar, met betrekking tot het thema lijden en pijn. Tevens is er een tentoonstelling in de Stevenskerk in Nijmegen, met werk van Rob Sweeren, Keiko Sato en Martijn Schinkel.
Mixed Signals is a podcast in collaboration with Peter Hendriks. Listen via iTunes, Stitcher, Spotify and other streamingplatforms. Or listen via the Mixed Signals page on Buzzsprout.
Podcast! Mixed Signals – een podcast door Ilona Verhoeven en Peter Hendriks. Luister via iTunes, Stitcher, Spotify of een van de vele andere favoriete streamingdiensten, op de Mixed Signals-pagina op Buzzsprout of ga naar de player op deze site!
In 2019/2020 Ilona is artist in residence at the Besiendershuis in Nijmegen, working on 'Frontlijnen', a literary-artistic project about Nijmegen in the last year of the war and during the liberation period.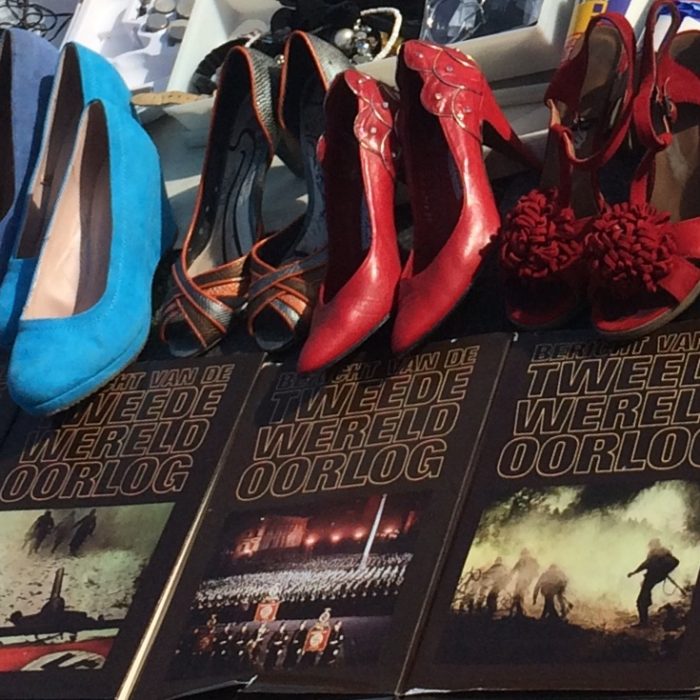 What is still there from the Second World War, what is to be seen? The war that has had such a devastating effect on Nijmegen and the surrounding area. How do we deal with that? 'Frontlijnen' is about Nijmegen as a front city, moves through the Nijmegen neighborhoods and the surroundings of the city, and gradually Ilona "catches" her stories – from the war and liberation times, but also from now on.
From a literary-artistic approach, these texts reflect on the city how it was in and just after the Second World War, so the front city and then the battered place after the liberation. This will be an exhibition on the Waalkade in Nijmegen, September 16 – 30, 2019.
In 2019/2020 is Ilona artist-in-residence bij het Besiendershuis in Nijmegen. Ze werkt samen in enkele projecten en eind 2019 was er op de Waalkade de open-air expo 'Frontlijnen', onderdeel van een literair-artistiek project over Nijmegen in het laatste oorlogsjaar en in de bevrijdingstijd.
Wat is er nog te merken en te zien van de Tweede Wereldoorlog die zo'n verwoestende invloed gehad heeft op Nijmegen en omgeving? Hoe gaan we daarmee om? En wat is 'vrijheid' als je er (niet) bij stil staat?
'Frontlijnen' gaat over Nijmegen als frontstad, beweegt zich door de Nijmeegse wijken en de omgeving van de stad, en gaandeweg 'vangt' Ilona haar verhalen – uit de oorlogs- en bevrijdingstijd, maar ook van nu.
Vanuit een literair-artistieke benadering reflecteren deze teksten op de stad hoe hij was in en net na de Tweede Wereldoorlog, dus de frontstad en vervolgens de gehavende plaats na de bevrijding. De tentoonstelling op de Nijmeegse Waalkade werd geopend door schrijver en journalist Peter Brusse, en burgemeester Bruls in aanwezigheid van de wethouders Monique Esselbrugge en Renske Helmer-Englebert. Te zien van 16 tot en met 30 september 2019.
---
Exhibition in Berlin: Ins Licht, Photographien und Collagen @ Verwalterhaus – aktuelle Kunst und Kultur in Berlin. Project space from Friedhofsmuseum a.g. Berlin. Solo show in 9 rooms with collages, pictures, photography, new works in situ amongst one installation art project. 
Tentoonstelling Ins Licht in Berlijn, Projektraum van het Friedhofsmuseum a.g. Berlin, 9 ruimtes met foto's, collages en een installatie in het Verwalterhaus – aktuelle Kunst und Kultur in Berlin.
26 okt – 20 nov 2018, Prenzlauer Allee 1, Berlin.
---
Residency @ Besiendershuis in Nijmegen, spring 2018 and summer 2019
Voorjaar 2018 en zomer 2019: te gast als schrijver in het Besiendershuis in Nijmegen
Interview with Ilona at broadcasting station RN7 radio!
Luister hier de uitzending terug van radiozender RN7.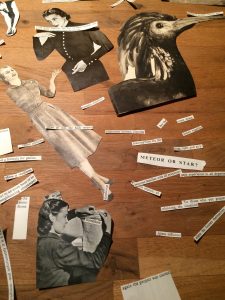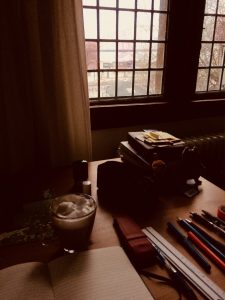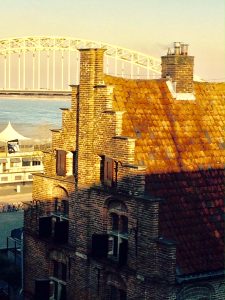 ---
Travels with my notebook, from february 2016 – ongoing
Spain, Germany, Poland, Finland, Netherlands, back to Spain – collages, stories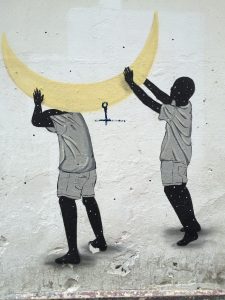 ---
Weekly snapshot stories in the Dutch newspaper nrc.next:
Gevonden situaties ('Found situations'): foto en verhaal door / photo and story by Ilona Verhoeven.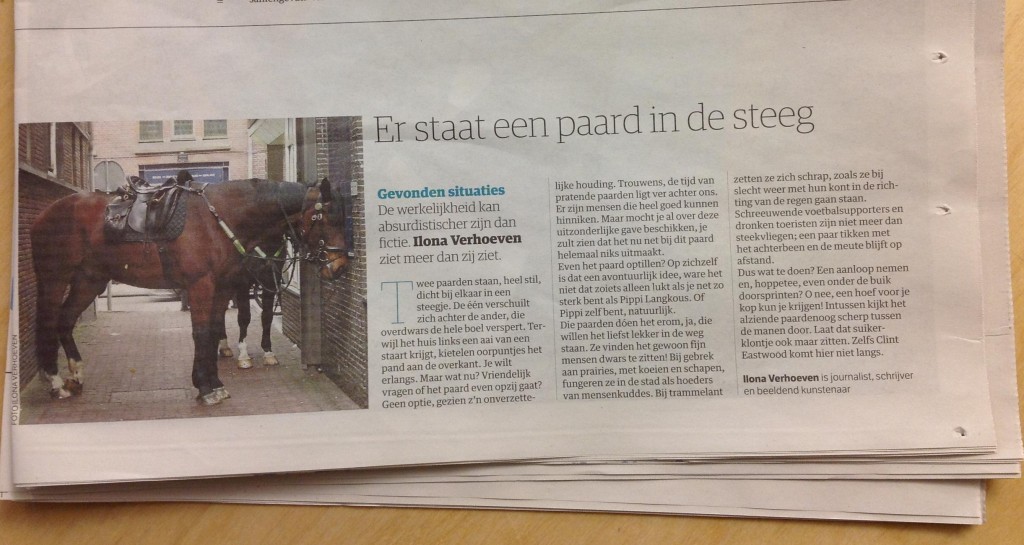 ---
Overseas / Overzees artist in residence, a project @ Museum Perron Oost Amsterdam, summer 2014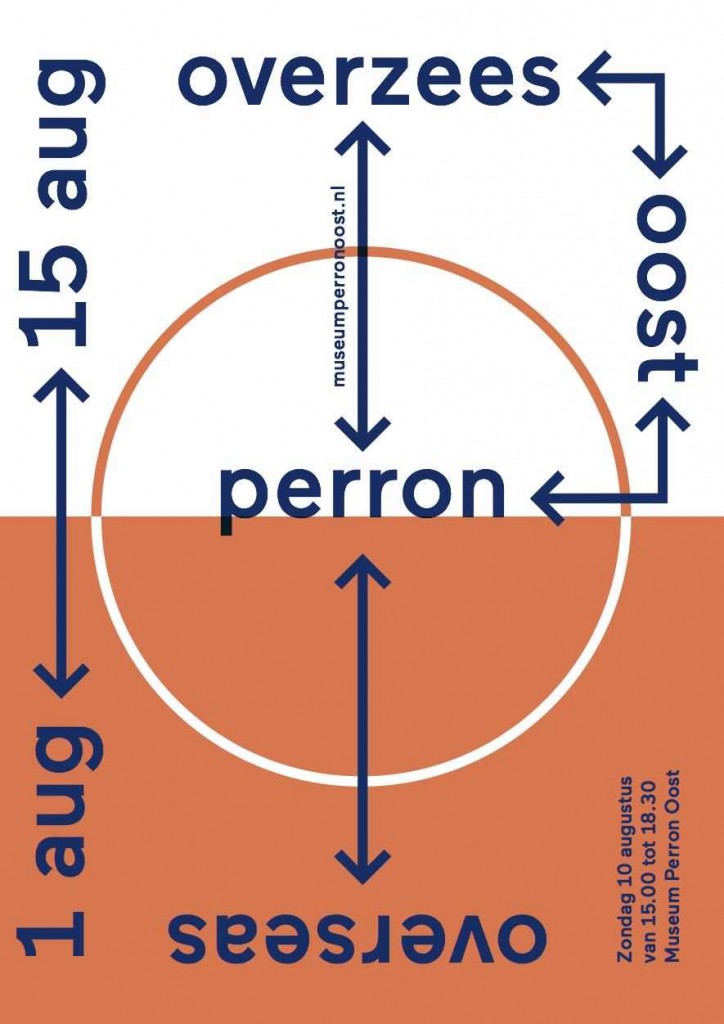 Overseas / Overzees:
installation- and exhibition view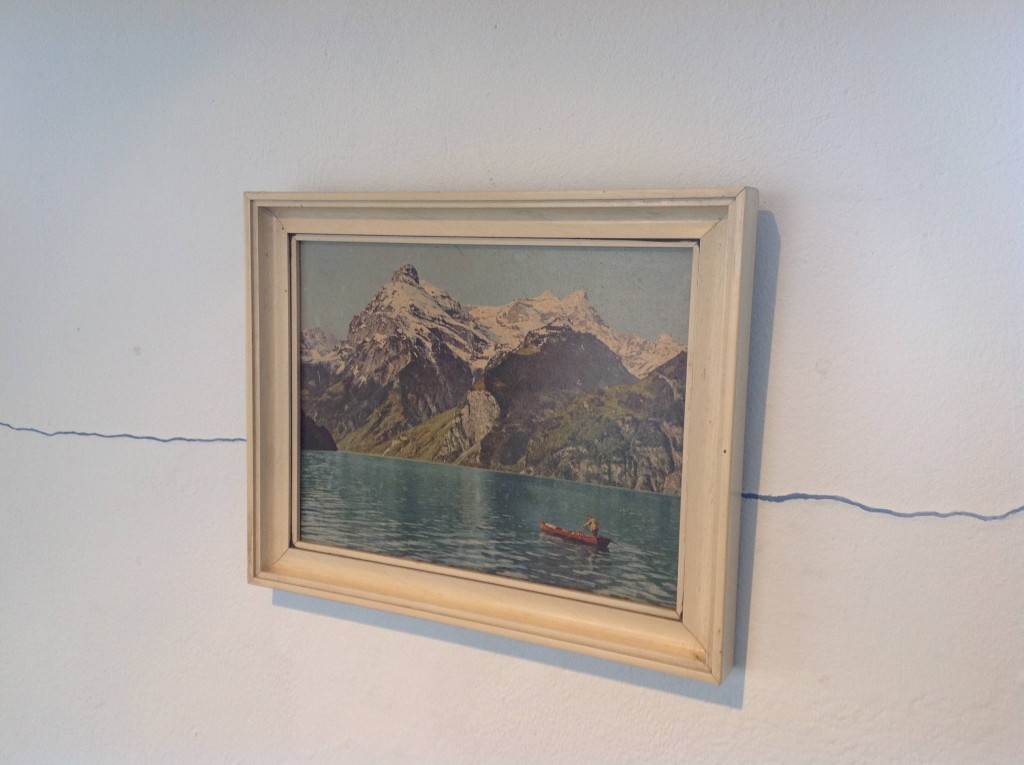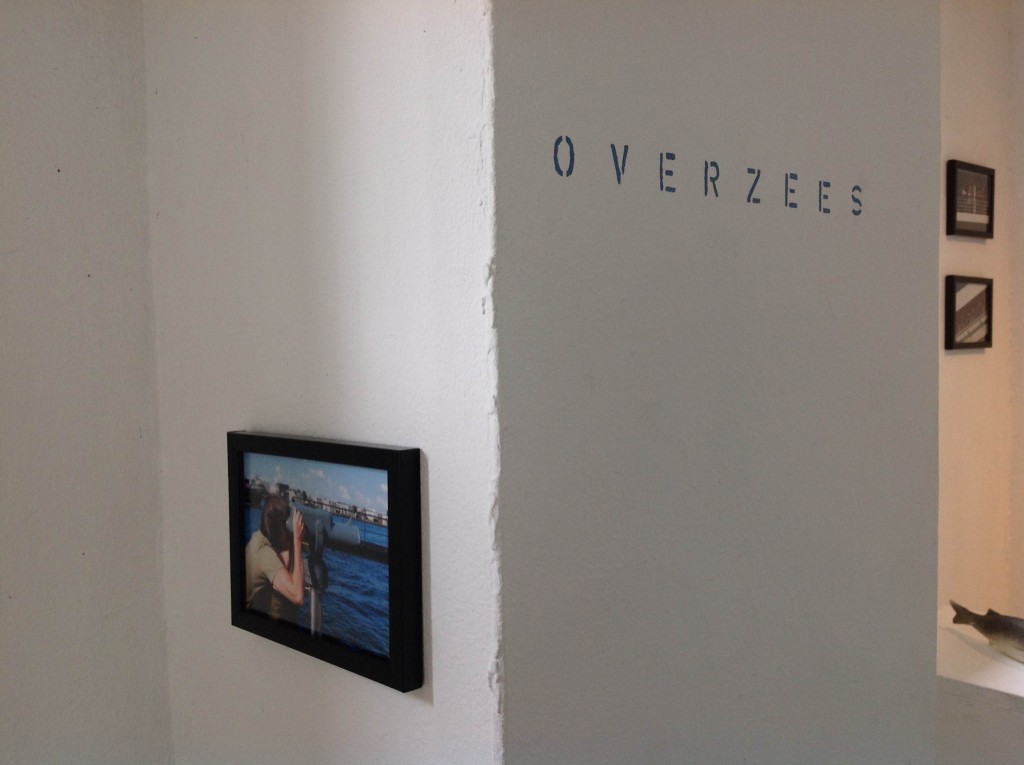 ---
Logos Festival, De Balie Amsterdam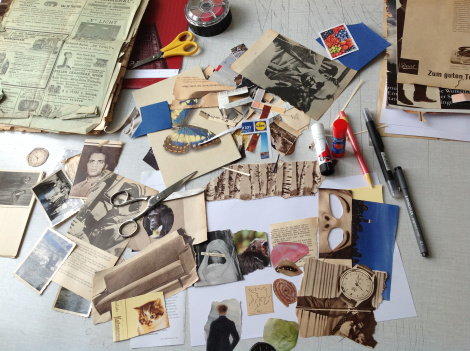 Zine stall at festival Logos, 25/26-5 2013
---
Birdhouse in your soul 
@ Museum Perron Oost Amsterdam – juli 2013 Intervention / project (social community art) and mini-zine production
---
Temporary Local Show Room, 2011-2012.
Pop up project, an artist run space in a former make out room at the Amsterdam Red Light District.
An old house at the Oudekerksplein, the oldest place of Amsterdam.
Psssssst, was it a secret concept? O yeah.
You shouldn't tell it anyone else ;-)… see more at the website.
Our house in the middle of… waar ik woonde, jarenlang. Op verzoek van de gemeente Amsterdam en woningcorporatie Ymere ontwikkelde ik een concept voor een kunstruimte aan het Oudekerksplein: Temporary Local Showroom. Een bijzondere, geheime plek. Een artist run space waar fantastische projecten plaatsvonden, tijdens de Amsterdamse Museumn8 bijvoorbeeld, maar ook ter gelegenheid van de Boekenweek, voor couleur locale… en gewoon omdat de tijd rijp was. Performance art, inter-action-painting, tentoonstellingen, Lesebühne, muziek, poëzie en bier tierelier.
---