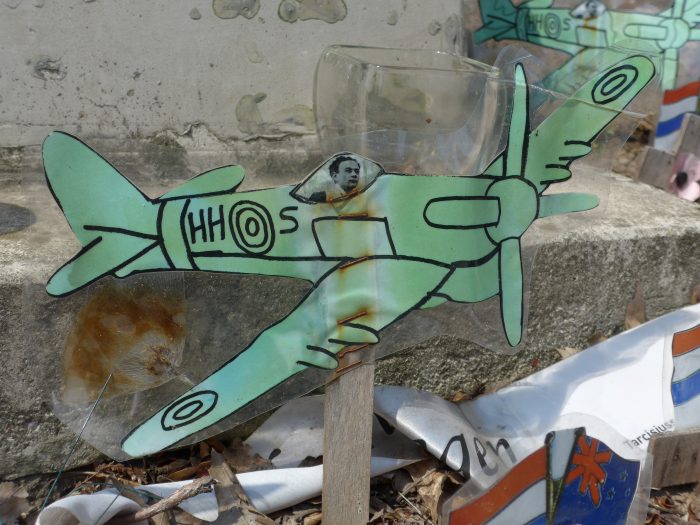 Frontlijnen / Frontlines, a literary-artistic project about Nijmegen in the last year of the war and during the liberation period by Ilona Verhoeven in collaboration with the Besiendershuis.

Frontlijnen, een literair-artistiek project over Nijmegen in het laatste oorlogsjaar en in de bevrijdingstijd door Ilona Verhoeven in samenwerking met het Besiendershuis.
During these months Ilona has been undertaking cycling and walking tours from the Besiendershuis through various neighbourhoods, looking around her in the process. All this comes together in image and text, similar to her other work. Then there is an exhibition on the Nijmegen Waalkade from 16 to 30 September 2019.
Frontlijnen / Frontlines is about Nijmegen as a front city, moves through the districts of Nijmegen and the surroundings of the city, and along the way Ilona 'captures' her stories – from the time of war and liberation, but also from today.
From a literary-artistic approach, texts and images reflect on the city as it was in and just after the Second World War, i.e. the front city and then the battered place after the liberation.
The project FRONTLINES takes place within the many activities surrounding 75 years of Liberation and is financially supported by the Municipality of Nijmegen and the SSN fund.
---
Ilona onderneemt deze maanden vanuit het Besiendershuis fiets- en wandeltochten door verschillende buurten en kijkt daarbij om zich heen. Dit alles komt,vergelijkbaar met haar andere werk, bij elkaar in beeld en tekst. Vervolgens is er een tentoonstelling op de Nijmeegse Waalkade van 16 tot en met 30 september 2019.
Frontlijnen gaat over Nijmegen als frontstad, beweegt zich door de Nijmeegse wijken en de omgeving van de stad, en gaandeweg 'vangt' Ilona haar verhalen – uit de oorlogs- en bevrijdingstijd, maar ook van nu.
Vanuit een literair-artistieke benadering reflecteren teksten en beelden op de stad hoe hij was in en net na de Tweede Wereldoorlog, dus de frontstad en vervolgens de gehavende plaats na de bevrijding.
Het project FRONTLIJNEN vindt plaats binnen de vele activiteiten rondom 75 jaar Bevrijding en wordt financieel ondersteund door de Gemeente Nijmegen en fonds SSN.