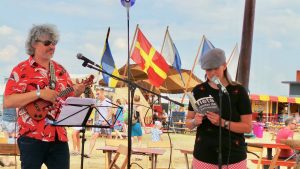 Festival Op 't Eiland, Nijmegen (NL): short performances 17. and 18. july 2018, between 13.00 and 16.00h, free entry.
Op festival Op 't Eiland zijn er verhalen en liedjes tijdens de literair-muzikale voorstelling De lange adem van het korte verhaal en het ultrakorte liedje. Een samenwerking met Peter Hendriks en het Besiendershuis in Nijmegen. Korte voorstellingen tussen 13.00 en 16.00 uur op 17 en 18 juli 2018, vrij entree.
En! Welkom tijdens de feestelijke sneak peek + al dan niet lange nazit :-) in het Besiendershuis op zaterdagavond 14 juli 2018, aanvang 20.15 uur, inloop 19.45, vrij entree.