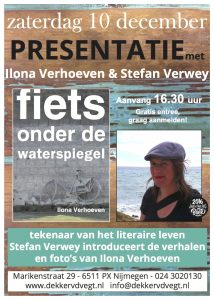 Op zaterdagmiddag 10 december 2016 vond een extra speciale presentatie van Fiets onder de waterspiegel plaats bij Dekker van de Vegt Boekverkopers. Tekenaar van het literaire leven Stefan Verwey hield een schitterende inleiding op het boek. Ilona gaf toelichting op de foto's.
Dekker v.d. Vegt boekverkopers, Marikenstraat 29, 6511 PX Nijmegen
---
Special book presentation in Nijmegen, 10 december 2016:
Fiets onder de waterspiegel with a special talk about the book by cartoonist Stefan Verwey @ Dekker van de Vegt booksellers!